Honeywell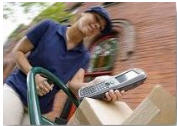 In a world where business never slows, your mobile workforce needs tools that never stop performing. Light, powerful and rugged enough to endure even the most demanding applications, these mobile and wireless data-collection solutions are designed expressly to meet your needs. Whether you put them to work on the road, on the loading dock or anywhere else real-time communication and information access are essential, you can count on Dolphin Mobile Computers to deliver everything you're looking for in a technology investment. Higher employee productivity and enhanced customer satisfaction. Plus the dependability and exceptionally long service life that ensure a rapid return on investment.
Honeywell

Dolphin 70e Black - The Dolphin™ 70e, Honeywell's latest enterprise hybrid device, successfully marries the size, style and usability of a consumer device with the reliability and longevity of a traditional rugged hand-held. Engineered with premium materials and clean lines, the form factor of the Dolphin 70e elegantly lends itself to personal device usage while also meeting the challenges found in the unpredictable surroundings of the mobile enterprise. More...

Dolphin 9700 - Honeywell's Dolphin 9700 is a rugged digital assistant that is equipped with multi-functional data collection and communications capabilities in one reliable, easy-to-use device.

The Dolphin 9700 allows companies specializing in parcel delivery, route accounting, field services, and healthcare point-of-care applications to better serve their customers, by maximizing worker productivity through innovations that provide increased connectivity, optimized system performance, task-specific ergonomics, and an intuitive user interface. More...

Dolphin 6000 - Today's mobile workers require real-time communications and access to critical business data to make informed decisions at the point of customer service. Many of these information workers utilize multiple devices—such as smartphones, VoIP phones, two-way radios, laptop or tablet computers, GPS navigation systems, and bar code scanners—throughout the day. Honeywell's Dolphin® 6000 Scanphone converges the functionality of these devices into a single, durable, and affordable pocket-sized device. More...

Dolphin 99EX - Honeywell's Dolphin® 99EX mobile computer provides extreme durability, cutting-edge wireless technology, user-friendly ergonomics and multi-functional data capture for front-line workers operating in both indoor and outdoor environments. Purpose built for transportation and logistics applications, the 99EX was designed to take mobile worker productivity to a new level while helping to reduce operating costs. More...