Trimble Rugged Handheld Computers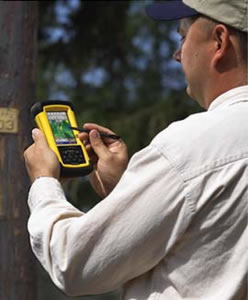 Trimble's Mobile Computing Solutions Division offers innovative products that enable mobile workers to be more efficient in extreme outdoor and industrial environments. The Nomad, Recon, Ranger, and Yuma outdoor rugged handheld computers help users collect accurate field data and work more productively in any outdoor or service-related application. Trimble's handheld computers meet MIL-STD-810F military specifications for drops, vibration, immersion and temperature extremes, and with an IP67 rating, are protected against water and dust.
Cardinal Mobile has been a Distributer for Trimble since 2003.
Cardinal Mobile is an Authorized Trimble Service Center
Trimble

Juno T41 - The flexible, fully rugged Juno T41 is available in a wide variety of configurations. Build the handheld computer you need: Android or Microsoft Windows operating systems, Barcode Imager, Smartphone or GPS collector (or both)... whatever your ideal combination of features and functionality, the Juno T41 is a reliable workhorse designed to last for years in any environment. More...

Yuma2 - The Trimble ® Yuma ® 2 rugged tablet computer is designed for ease of use and high performance mobility with everything users expect from a tablet computer – along with the confidence that it will perform at optimum capability no matter where the workplace may be More...

Nomad - The new Trimble Nomad packs even more functionality into the most powerful and full-featured rugged handheld computer available. The Nomad makes it easy to collect, save and transmit data in the field because it's available with so many built-in capabilities. Compute your location with the integrated GPS receiver for navigation applications. Quickly track your assets with the integrated 1D laser bar code scanner. Or capture color images with the 2 megapixel digital camera for inspection, maintenance and repair applications. Plus, you can use the Nomad's CompactFlash (CF) and Secure Digital (SDIO) slots to add even more devices. More...

Ranger - Smart, tough and loaded with additional features, the next-generation Ranger possesses features that field professionals depend on, like field-ready ruggedness, 30-hour battery and an easy to use keypad and touchscreen. The Ranger grows more versatile as technology evolves, integrating more and more capabilities designed to improve your work life. More...

Recon - The next-generation TDS Recon X-Series rugged handheld computer delivers maximum performance and reliability in a lightweight, extremely rugged design that's easy to carry. Featuring optional embedded Bluetooth and 802.11g wireless, the waterproof Recon weighs just 17 ounces, meets military specifications for drops, vibration, and both high and low temperature operation, and runs Windows Mobile 5.0. The Recon works wherever and whenever you need it.  More...